When rack space is at a premium and you need a solid reference generator with every signal imaginable – 4K, HD, 3 Gb/s, SD, analog composite, time code, AES, and more – look to Ensemble Designs.
Used in TV stations, mobile trucks, news helicopters and flight packs world-wide, Avenue and BrightEye sync pulse generators and test signal generators are rugged and reliable.

To arrange a demo, Click Here.
The Avenue 9400 sync generator and video test pattern generator is a stable timing source that is perfect for local reference generation in broadcast, remote trucks and post. 3 Gb/s, HD SDI, SD SDI, analog composite, Tri-Level Sync time code, AES audio and analog audio reference outputs are generated.
The 9400 SPG/TSG module fits into an Avenue 3RU Frame or 1RU frame. The 3RU frame holds up to 10 modules including additional SPG modules, sync changeovers, DAs, up/downconverters and frame syncs.
BrightEye 57 is a palm-sized SPG/TSG with 3G, HD, SD, audio, and time code outputs. Other members of the BrightEye family include the BrightEye 56 HD/SD SPG/TSG and the BrightEye 55 SPG/TSG.
For a 4K solution, check out the Avenue P9400-4K.
Sync Pulse Generators and Test Pattern Generators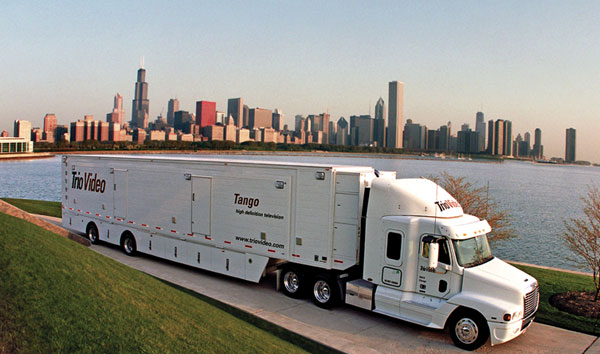 Trio Video's HD Tango Truck relies on Ensemble reference generators.
The Avenue 9400 can output multiple formats of tri-level sync, 3 Gb/s and 1.5 Gb/s HD SDI test signals, SD composite and SDI test signals, and color black reference. The 9400 can simultaneously deliver both 525 (NTSC) and 625 (PAL) based signals. Color framing tracks the reference signal. All of the video outputs are derived from the same time base and can be timed with respect to each other. The 9400 has two identical generators, Generator A and Generator B, each with a variety of outputs. Each set of outputs can be timed with respect to the reference to any point in the television frame. All of the Outputs from a particular Generator must be selected within the same frame rate family.