Rental and Staging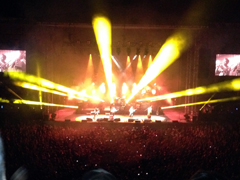 Reliability for Rent
Equipment To Rent That Makes Sense
When customers are coming to you to provide equipment for their productions, they need solutions that are quick, complete and very easy to operate. You as the provider of these solutions need something that is rugged and reliable, easy to troubleshoot, and quick to return to a "standard" configuration. Needless to say, they also need to be cost effective and able to have a decent return on investment.
Fortunately, Ensemble Designs has the rugged solutions you're looking for. Designed by engineers that understand the demands of equipment used in temporary installations, our solutions are very well built. We manufacture everything right here in California under very tight and demanding quality assurance. We have tech support that is second to none including 24/7/365 phone access to an engineer – not an overseas imposter checking the boxes on a generic checklist. We offer advanced replacement and will ship overnight to keep you up and running. We take this support very seriously, and we're recognized industry wide as a leader in supporting our products.
Fortunately, most customers don't require this degree of support, as our products are very reliable. We don't take shortcuts in our manufacturing processes. You won't find press-fit connectors, rinky-dink buttons, plastic, easily breakable containers around our electronics. These are tough, well made products, and the result is a high mean time between failures.
Lastly, our products provide a toolbox of features. For example, our BrightEye 72 SDI to HDMI converter has a plethora of features, not just conversion from one format to another. It offers the ability to color correct the output, adjust audio levels, display captions and timecode, even built in test patterns to ring out signals. It's this toolbox approach that makes all Ensemble Designs equipment the perfect solution to engineers everywhere.
From Multiviewers to routers, scan converters to signal converters, distribution amplifiers to sync pulse generators – we have the products to make you a hero. Check out our product line.