Medical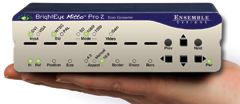 Integrating medical equipment into the video production
Extremely Detailed Video Output for Operating Environments
Live broadcasts of medical programming require detailed video with perfect colors. The Academic Medical Centre (AMC) at the University Amsterdam rely Ensemble Designs fiber and video converters for their system.
See all shades of red and all of the detail
Nearly all medical devices have a 1080p digital output via DVI. Selecting a lesser resolution from the device in order to convert this signal to HD SDI, results in the loss of subtle color differences and gray scale necessary to accurately evaluate the medical imagery. In addition, this imagery often has to travel great distances to classrooms and supporting hospitals for evaluation, making a fiber optic 3Gb/ sec output a necessity. The BrightEye Mitto 3G-F with it's exclusive 3Gb/sec (1080P -1920×1200) HD SDI electrical and fiber optic output, is the perfect solution.