Using BrightEye NXT Router with the Tektronix WVR 5250
Monitor More Sources From Your Tektronix Scope
Cable operators and terrestrial broadcasters, when you need to monitor and analyze more sources on your Tektronix WVR 5250 Scope use the Ensemble Designs BrightEye™ NXT Router to provide a wider fan-in of signals. Bring HDMI and SDI feeds from IRDs into the BrightEye NXT 410 Router. The LCD on its front panel lets you see your sources in realtime before you route to an output. The BrightEye NXT's built-in web server lets you monitor and control channel feeds with a web browser from any location.

• Use asynchronous sources
• Use with fiber optic, HDMI, and SDI signals
• Super compact – save space and money
• See your sources on the front of the router
• Control from the front panel and web browser
• You set the number of router inputs and outputs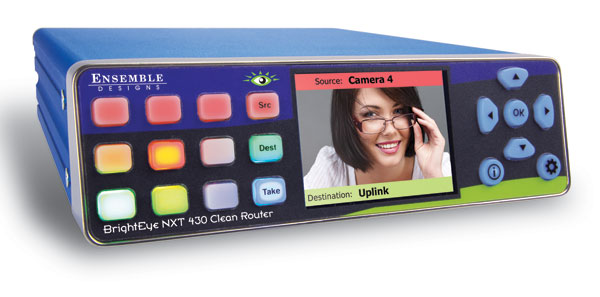 The BrightEye NXT series of Compact Routers allow you to instantaneously switch between cameras and other sources, even when using both HDMI and SDI gear. No Pops, no glitches. Great for mobile, fly packs, studio and control room.
Want more info? Get an overview of all Ensemble Designs BrightEye Routers