Contact Sales
How To Bring More Sources Into Your NewTek TriCaster
When you need to bring more sources into your NewTek TriCaster, system, use the BrightEye NXT 430 Clean Router from Ensemble Designs. You set up BNCs as inputs or outputs, allowing you to maximize the router's configuration for your production. BrightEye NXT's built-in clean switches let you use cameras and other sources that don't have a reference. The output of the BrightEye NXT's will be in time at the input of the TriCaster. The LCD on the front of the BrightEye NXT lets you see your sources in realtime before you do a take. Plus, the BrightEye NXT's built-in web server lets you monitor and control your router from a web browser. It's super compact, saving you precious rack space. TriCaster protocol is included with all BrightEye NXT Routers, making integration a snap. For systems with both HDMI and SDI signals, use the BrightEye NXT 410 HDMI Clean Router.

• Use asynchronous sources
• Use with fiber optic, HDMI, and SDI signals
• Super compact – save space and money
• See your sources on the front of the router
• Control from the front panel and web browser
• You set the number of router inputs and outputs
Want more info? Get an overview of all Ensemble Designs NXT Routers
NewTek resellers contact:

Mondae Hott
Director of Sales
+1 530.478.8329
mondae@ensembledesigns.com

General inquiries:
+1 530.478.1830

info@ensembledesigns.com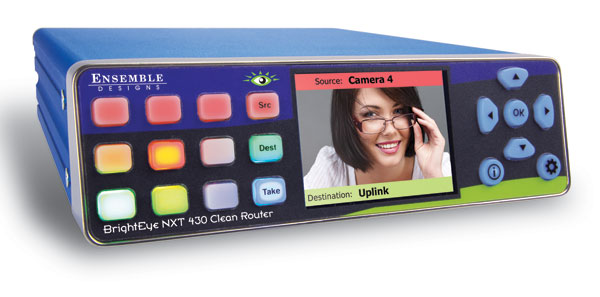 The BrightEye NXT series of Compact Routers allow you to instantaneously switch between cameras and other sources, even when using both HDMI and SDI gear. No Pops, no glitches. Great for mobile, fly packs, studio and control room.