Keying Is Believing
Introducing new, multi-layer keying technology that's just right for branding, small master control, presentation, flypacks and trucks.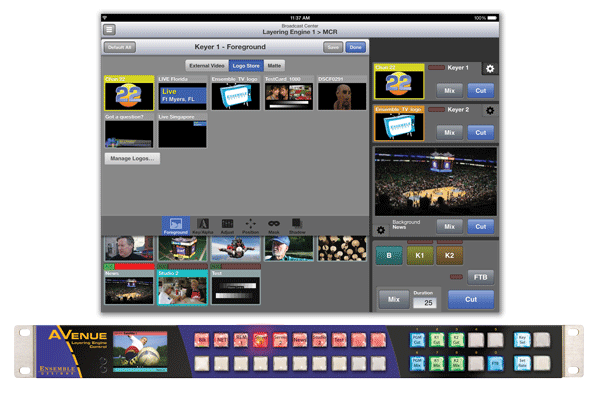 The Avenue Layering Engine is a powerful mix effect with two, independent linear keyers, program/preset background transitions, audio mixing, voice over and breakaway. The intuitive iPad control interface gives you full control over the mix/effect with program and preview thumbnails and comprehensive view of all graphic layers. Plus, there's an equally complete automation protocol, via TCP/IP or RS-232 interfaces, allowing integration into every type of application, including channel branding, master control, fly-pack, DSK and centralcasting. Realtime processing, low latency and serial control make it easy to integrate into your next upgrade or project.
To Watch The Layering Engine Overview Video Click Here.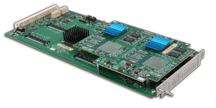 It is just a single card in an Avenue chassis, and it can do quite a bit. For example, when camera one is a full-screen source on the program monitor and camera two is preset, the operator can do a mix from camera one to camera two. He can also cut back to camera one and mix again to camera two. He can change only the background layer, and then bring in a graphic on top of it. Going back to camera one, he can then bring on a second layer graphic through keyer number one. Another key or overlay can be brought in through keyer two, before yet another layer is brought in with keyer one. The operator can bring in a little live bug in the upper left-hand corner. The bug is sourced from the built-in LogoStore. To position it differently, he can simply turn on the positioner and reposition the bug wherever he wants it to be in the output. The positioning tool applies to any type of key, whether it is live, external video, LogoStore graphics, or something else.
Once the different layers are on, the operator may want to switch back to camera two, changing all the layers at once. He can enable transitions in all three layers at one time and do a mix back to camera two. He can also change the duration of the mix and manage audio in addition to the video layers. The primary audio can follow the audio that accompanies the background layers. The operator can do an audio breakaway as well as an audio overlay, such as a voiceover. He can use a laptop computer as the control surface, or an iPad for more portability. An iPad offers a complete control surface, a graphic interface, for the layering engine. It displays all of the sources. For example, if the operator wants to choose a particular still store as his next background, he can mix off keyer two and mix off keyer one, and then cut in the background to the desired still store. He gains enormous control capability on a control surface that he can carry with him. Not only does he have control, but he also has the video itself. The layering engine is a tremendous solution for applications like presentation, events or House of Worship where someone in front of house is switching the show.
Operators can work with cameras that are connected with a single cable, without a reference or gen lock. Out in the field, a couple of ENG cameras may be connected (without a reference,) but the operator can still achieve a dissolve. He can preset camera two and cut to it, then preset the still store and mix back again because the layering engine has a built-in frame synchronizer on every single input. The Avenue Layering Engine is a powerful mix effect for video and audio that can be controlled on an iPad interface.
There's a frame sync on every input so go ahead and use sources that aren't genlocked. And the extraordinarily intuitive iPad™ control gives you new freedom in switching a show or event.
To have a hands-on demo of an Avenue Layering Engine, Click Here.