Avenue
P9425 Avenue Layering Engine
Multi layer keying and background transitions
Linear, Luminance, and Additive Modes
Internal LogoStore
Built-in frame sync on every input
Audio breakaway, Voice over and

AFV

Supports 16 channels of embedded audio
Channel branding, small master control, centralcasting, fly-pack, remote truck

EAS

and downstream keyer option
More Than a Mix Effect
Introducing the new Avenue Layering Engine for use in broadcast, live venues and presentation. With two, independent linear keyers, program/preset background transitions, and audio mixing and breakaway, it's an agile and flexible solution to combining audio and video content. Inputs can be driven by SDI signals from cameras, remote feeds, character generators, graphic and stillstore systems, and video servers. The full range of SDI signals from SD to HD and 3G formats are supported.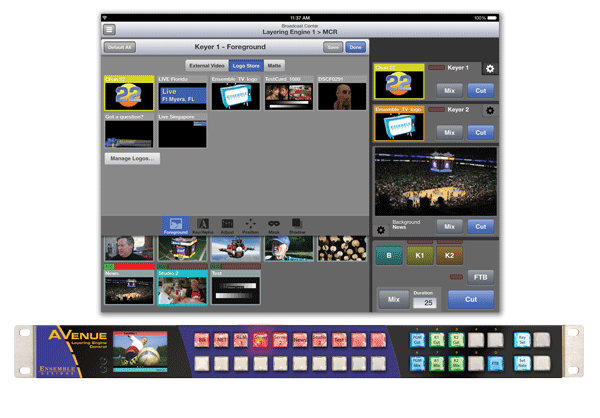 Powerful, Flexible Keying and Layering
The Avenue Layering Engine has two independent overlay keyers. The keyers support linear, luminance and additive keying from a variety of video sources. In linear and additive modes, external key signals are faithfully passed to the overlay combiners with the option of user adjustments to fine-tune the effect with hi/lo clip. When operating as a luminance keyer, the key signal processor provides precise control over the clip and gain functions used to extract a self-key from the fill video.
Overlay content from both live and still sources can be re-positioned and masked. A drop shadow effect, with variable position and density, can be added to any type of overlay – either from live video or the LogoStore. Each keyer has a color matte generator which can provide the fill video.
EAS

and Downstream Keyer Option

Add the 9425-XK option for additional keying capability. The downstream keyer provides a third layer of keying, drawing from stills and animations in the Layering Engine's LogoStore. A basic character generator is included for producing a lower-third crawl. The the 9425-XK also provides CAP compliant EAS insertion. Three signals are from the external EAS receiver: a GPI command to put the announcement on air is fed from a JLCooper eBox, an RS-232 ASCII data that feeds the character generator is also fed from the eBox, and a live audio signal that is to be played out with the scrolling CGEN. This signal is brought in through an input on the Layering Engine and it can be either embedded on an SDI signal or delivered as an AES stream.
LogoStore
Logos and Graphics created with paint and animation applications can be loaded into the Layering Engine's LogoStore through a web interface. These elements can then be keyed and combined with live video inputs. The user interface makes it easy to choose from multiple graphics in each keyer, even in a live environment. The LogoStore's non-volatile memory is a great solution to sourcing lower third supers, branding logos, and watermarks.
Basic Configuration
The base hardware configuration has 8 inputs and 2 outputs. Any of the inputs can be used as background video, key fill or source, or audio breakaway and voiceover. The two outputs can be assigned as program and look-ahead preview for live switching applications.
Flexible Configuration
Alternate configurations are available for every application, from remote trucks to news bureaus to presentation. The Layering Engine can be expanded to 30 configurable I/O ports where any port can be used as an input or an output. This additional flexibility allows you to have video effects, audio mixing and routing functionality in one convenient package. Here's a cost effective way to have keying and routing all in one, integrated system.
Timing and Synchronization
The Avenue Layering Engine genlocks to a house reference signal, allowing you to time the effects output to match system requirements in your facility. Even asynchronous (wild) sources can be used as inputs. Each input incorporates a full-frame synchronizer, automatically correcting each source to match system timing. When no external reference is available, as in a flypack system, a stable internal reference signal is used.
Complete Audio
Comprehensive audio support is built-in. The primary audio output can be taken automatically from the embedded content in the currently selected background video source. This AFV (Audio Follow Video) mode will produce smooth, pop-free audio transitions that duplicate the background video – whether cutting or mixing. Alternately, the audio can be selected independently (Audio Breakaway) of the background video so that it comes from the embedded content of any connected source. Plus, the primary audio can be augmented by bringing in an audio overlay, or voice over.
You're In Control
Through a web interface you have complete control over the configuration and operation of this powerful layering engine. The intuitive iPad control interface gives you full control over the mix/effect with program and preview thumbnails and comprehensive view of all graphic layers.
Plus, there's an equally complete automation protocol, via TCP/IP or RS-232 interfaces, allowing integration into every type of application, including channel branding, master control, fly-pack, DSK and centralcasting.