Introducing BrightEye Mitto Pro 2 – the newest member of the award winning scan converter family. Top quality, best user interface.
The BrightEye Mitto™ family of high performance scan converters provide a new way to take just about any source to 3G, HD or SD SDI video. Computer video can now be used for the most demanding applications including broadcast, high-end military, medical, classroom, church and corporate. All Mitto units accept VGA, DVI and HDMI input signals from PC and Mac computers. Mitto auto-senses between a VGA or DVI input, simplifying integration with any type of computer. It's easy to time the output to house because every Mitto is genlockable.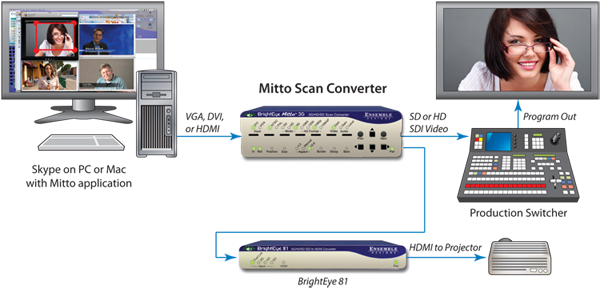 Newest and best scaling technology
Five different BrightEye Mitto units, each with varying types of outputs and capabilities, allow you to choose the best one for your particular video application. All BrightEye Mitto units convert YouTube, Skype video, weather radar, emails and maps to video. Just a small part of the screen, such as a Skype window, can be selected with a mouse and converted to full screen HD. Ensemble uses the latest technology in its proprietary upconversion and filtering and that means you have the best looking video. Compare Mitto to any other scan converter and see the difference!
"Regardless of how quickly we need to take Mitto to air, it works famously every time. And it looks spectacular. When we covered the blizzards last winter, all of our user-generated content submissions and Skype came through Mitto." – VP of Technology, Griffin Communications
KWTV

,

KOTV

and

KQCW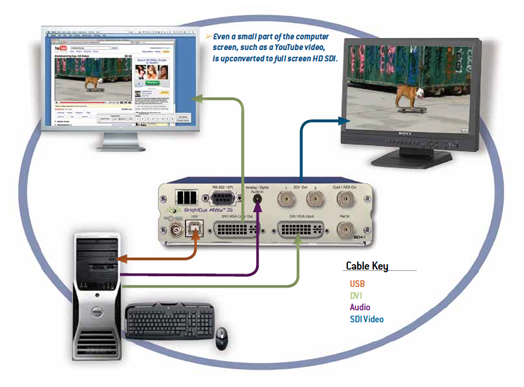 "We are using the Mitto Scan converter for ingesting web content for our daily news shows. No matter what kind of file formats or computer video, even security camera video, we can easily turn it into
SDI

video using Mitto. We are extremely happy with the functionality and quality. I've used Ensemble equipment for years and the people there are great to work with." – Efi Dilmoni, V.P. Engineering and Technology, Channel 10 & News 10 Israel


Click here for a scan converter case study


Details at the complete BrightEye Mitto product page
Download the BrightEye Mitto family brochure