Ensemble Designs Wins Three Prestigious Awards At NAB
April 10, 2014 Las Vegas, NV – Ensemble Designs received three prestigious awards today at the National Association of Broadcasters Convention in Las Vegas, Nevada. TV Technology Magazine and Digital Video Magazine presented the "Best Of Show" awards on the show floor for two separate Ensemble Designs products. The Best Of Show Awards are judged by a panel of engineers and industry experts on the criteria of innovation, feature set, cost efficiency and performance in serving the industry. The winners will be featured in TV Technology and Digital Video magazines, read by thousands of broadcast professionals in the United States, around the world and online.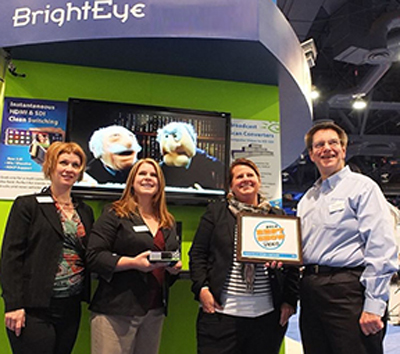 "We are very proud that the industry has recognized our products as among the best shown at the National Association of Broadcasters Convention. There are literally thousands of products on display at this event, and to have two selected as Best of Show coming from Ensemble Designs is a real honor, and speaks loudly as to the quality of the products we're manufacturing," said David Wood, President and Chief Design Engineer at Ensemble Designs.
Two of the awards, one from TV Technology Magazine and the other from Digital Video Magazine were for the BrightEye NXT Compact Router 2.0. This software, currently shipping with new BrightEye NXT products, and offered for download to existing customers at no charge, features transition mixes as well as direct cuts, router salvos, audio adjustments on an input by input basis and transportable configuration files.
"The functions packed into this little router are just amazing," said Mondae Hott, Director of Sales for Ensemble Designs. "It would take the equivalent of 8 rack units of gear and ten electrical outlets to do what this little router does. The industry apparently recognized this and it's a great honor receiving two Best of Show awards for our BrightEye NXT routers."
"The BrightEye NXT Compact Router keeps getting better and better, " said Cindy Zuelsdorf, Marketing Czar at Ensemble Designs. The advanced features, like mix transition and control via mobile devices, give users functionality not seen in much larger, more expensive routing systems and is offered to our existing customers at no cost through our 5 year hardware, software for life warranty."
The third award, given by TV Technology Magazine was for the Avenue Multiviewer Magic 2.0. Delivered in three configurations, the Avenue Multiviewer Magic 2.0 hardware and software allows up to 16 different full motion video sources and up to eight data fields to be displayed on a single flat screen display while being controlled from multiple locations.
"This multiviewer is a game changer. The ease of layout for the display is unparalleled," said John Pichitino, Technology Evangelist for Ensemble Designs. "Users can be fully up in running in a matter of minutes without the necessity of calculating pixel scaling and positioning. It's as easy as drag and drop and the picture quality in the cells is exceptional without delay no matter how many times the same image is used in the display. Add to that signal analysis and alarms, two tallys, close caption display for every cell, and multi-user web browser control of layout, and you have one heck of a sophisticated multiviewer. It's nice to know the industry recognized the importance of this easy to use software, and awarded us a Best of Show award."
Based in Grass Valley, California and formed in 1989, Ensemble Designs is a leading provider of signal processing and infrastructure products. Customers include Lockhead, NASA, Major League Baseball, Olympic Broadcast Organisation, General Atomics, and ESPN.