Up/Down/Cross Converters
Your transition to HD is made easy with video converters from Ensemble Designs. Exceptionally clean Upconverters, Downconverters, or Crossconverters are made possible through our proprietary scaling and filtering which gives you the best possible video quality, suitable for the most demanding applications.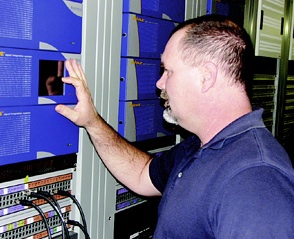 Here are some highlights –
The 7900 is a flexible, configurable Up and Downconverter for use in broadcast and post. It can process SD (Standard Definition) signals into HD, downconvert HD signals into standard definition, and perform Format and Aspect Ratio Conversion on both SD and HD signals. The 7900 and one of the optional audio sub modules together only occupy one slot in an Avenue frame – now that's efficient use of space.
The 7900 can be configured to continually output your facility's preferred HD format. Just connect any HD or SD signal to the input and the 7900 will convert it to the appropriate format for output. And, if the 8415 audio option is installed, the audio will have automatic delay compensation.