Video Routers
Clean and Quiet
SDI

Video and Audio Routers
(No Pops, no glitches!)
Introducing the BrightEye NXT Compact SDI Video Router series from Ensemble Designs. Instantaneously switch between cameras and other sources, even when using both HDMI and SDI gear. Great for mobile, fly packs, studio and control room, both the BrightEye NXT 430 Compact Router and the BrightEye NXT 410 HDMI Clean Router are smaller than a half rack.

Add more inputs to your video production switcher or master control switcher. Feed cameras and other SDI and HDMI sources to a BrightEye NXT 410 HDMI Router and take one or more of the router outputs into the production switcher or master control switcher. Switch seamlessly between fiber optic, HDMI and SDI signals.
The Avenue Flexible Matrix Video Router uses new technology for configuration and display which makes it different from existing routers in the marketplace today. The ease of expansion, user-definable input/output port geometry, unique video thumbnails, built-in test signal generation, and optional clean and quiet switching on multiple outputs make it suitable for high-end broadcast use. Applications include QC monitoring, master control bypass switching, ENG trucks, and edit suites.
Find out how a San Francisco multichannel environment led to a different design for master control switching.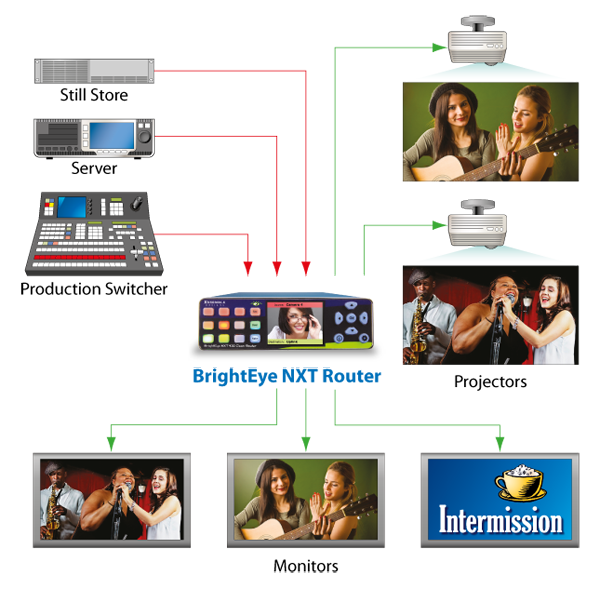 Use a BrightEye NXT Router or Avenue Flexible Router for live events and sports to route signals to monitors, switchers and projectors. The router's outputs can be easily configured to be in time with house, even when there are asynchronous sources on the input.
Use Asynchronous Sources
Built-in clean switch provides full frame synchronization which means you can switch cleanly between asynchronous sources. Wild feeds from cameras, helicopters and microwaves can be fed to the BrightEye Router for perfect switching.
The clean switch provides full frame synchronization so it can even switch cleanly between asynchronous sources. Use the control system to designate any SDI input or output to the clean switch. Each clean switch can be assigned to one or more output BNCs. Flawless audio sample rate conversion makes the output truly Clean and Silent.
Flexible Architecture – You Define
BNC

s as Inputs or Outputs

You get to configure the number of inputs and outputs on the BrightEye and Avenue routers. Define BNCs as inputs or outputs through the intuitive web browser interface.

Most small routers have a fixed number of input and output ports. Often, they are not expandable, and if they are, a fixed block of inputs and outputs have to be added. This makes it very difficult to match the size of the router to the application at hand.

Custom tailor the input/output dimensions of the router to more closely match the requirements of a your application. Symmetrical (square) as well as asymmetrical (rectangular) configurations are supported.

To arrange to have a demo of an Avenue or BrightEye Router, Click Here.
Exclusive Live Thumbnail Display
Now you can look at your source before you do a take. The exclusive realtime thumbnail display on the front panel shows you the source before you take it to air. In addition to video monitoring on the LCD, indicators for synchronicity and timing, audio and AFD provide confidence that a source is ready to use.
Built-in Signal Diagnostics
Circuitry on the router's hardware detects and measures key parameters associated with each video source and makes these parameters available for display on both the hardware and software panels. Parameters include synchronicity and timing, line and frame rate, embedded audio presence/absence, closed caption information, and timecode data.

Future-Proof Architecture
The Avenue router occupies from one to three slots in any Avenue 3RU frame. The router is comprised of three different modules: the 9430 8×2 router module, the 9435 clean switch sub module, and the 9440 ten port expansion module. Power, video reference, and an interface to the Avenue Control System is provided by the frame. Built-in black, bars and tone save router real-estate.
BrightEye NXT Routers can be placed right where you need them. Rack the BrightEye NXT Router in your studio or control room, or take them on the road for use at a sports venue or in a fly-pack.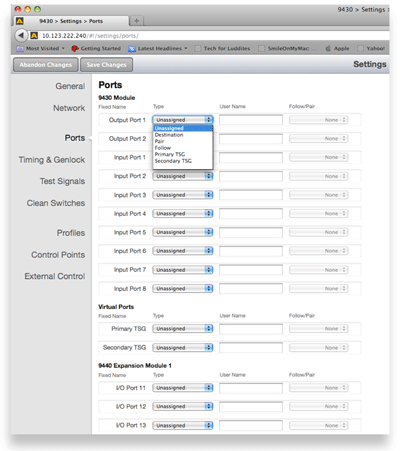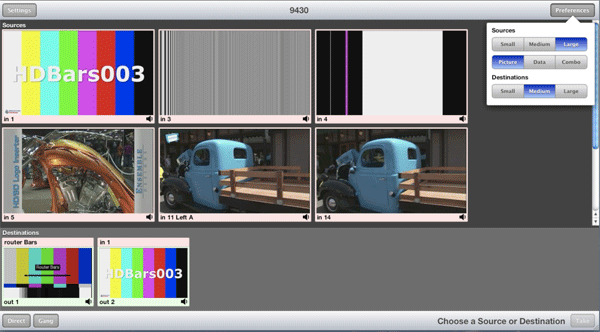 Above, the Avenue 9430 Flexible Matrix Router web browser control window. Complete control of the Avenue and BrightEye SDI Routing Switchers and HDMI Routing Switchers is available from iPad, Router Control Panel, TCP/IP and serial control.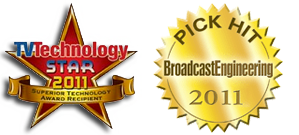 To find out more about the new Avenue and BrightEye NXT Routers, Click Here.