BrightPak - Field Kit for BrightEyes
Field acquisition
Field HD source
Telco kit
Field reporting
Mobile applications
Description
Use this sturdy, portable case with BrightEyes in the field. This rugged case makes it convenient to have upconverters, sync pulse generators, fiber transmitters and more wherever you need them.
BrightPak is modular and that means all BrightEyes, from the BrightEye 90-F HD Up/Down/Cross Converter with Fiber to the BrightEye 57 Sync Pulse Generator, can be housed in BrightPak for easy transport and use. You can optimize BrightPak for your specific application.
BrightPak Integration
BrightPak Basic in Kit Form is intended for end-users, dealers, distributors, and system integrators who wish to configure a BrightPak for a specific use. By selecting the appropriate BrightEye converters, industry standard connectors, and providing internal cabling, a BrightPak can be created that has the exact features and functions needed for a specific application. BrightPak Basic in Kit Form is a starting point for that process – providing the ruggedized field case, mounting for BrightEye converters and connectors, and power system needed. It is a framework for BrightPak integration.
Pelican 1430 Top Loader Case
Modified with side opening for connector bay and Anton/Bauer Battery Gold Mount.
Machined aluminum top plate and framework
Provides mounting for up to 6 single high BrightEyes, or three double high BrightEyes (or combination). Includes one single high and two double high blank plates.

BrightEye Featured at NAB2008
Power and Control System
100-230 VAC 50/60Hz universal power supply suitable for worldwide operation. Automatic detection/selection of AC versus battery power (BrightPak is not a charger for the battery). BrightPak will switch automatically to battery if the AC power is lost – without any on-air glitch or interuption. IEC power connection installed in the connector side bay. Power on/off switch, AC/Battery indication, and Low Battery Indicator on top plate. Internal fan-out connections of 12 volt power for use with BrightEyes and/or other user-supplied devices. Internal USB Hub with Neutrik 'D' type USB connector. USB connector can be installed in connector side bay or on top plate as desired.
Connector Support
Connector bay on side of BrightPak provides openings for:

1

IEC

AC power input connector (internally connected to power system)
12 Neutrik/Switchcraft 'D' type connector positions (connectors not included)
1 Mounting position for Stratos

HMA

Flange mount expanded beam optical connector (connector not included)

Connection positions on top plate of BrightPak provide:

6 Neutrik/Switchcraft 'D' type connector positions (connectors not included)
Battery Mount
Includes an Anton/Bauer Gold Mount Battery connector plate installed on side of case and wired into power system. Suitable for use with all Anton/Bauer batteries. Does not include battery. Mounting systems for alternate batteries available upon request. Typical operating time with a high capacity battery, one BrightEye 90-F, one BrightEye 48, and one BrightEye 24, is three to four hours.
Control Video and Audio Parameters
The BrightPak Basic Kit includes a "D" mount USB connector, an internal USB hub, and all cables needed to support three BrightEye units. The USB onnector can be installed in either the side bay or on the top plate. A laptop connected to that connector will have full control over all of the BrightEye units.
BrightPak Basic includes:
Hardware to install 3 BrightEyes
Pelican 1430 Top Loader Case
Machined aluminum top plate, blanks, framework
Power and Control System
Anton/Bauer Gold Battery Mount
Neutrik "D" Mount

USB

Connector
6 Mounting Blocks for BrightEye (2 per BrightEye)
4

USB

type A-B Cables
AC Line Cord
3 Power Cables for BrightEye
BrightPak Basic Extension Kit includes:
Hardware to install 3 additional BrightEyes
3

USB

type A-B Cables
6 Mounting Blocks for BrightEye (2 per BrightEye)
3 Power Cables for BrightEye
Additional Items
BrightEye converters, audio/video/fiber connectors, internal cabling, and other non-Ensemble accessories are not part of the BrightPak Basic. They are shown here to demonstrate the full range and capability of the BrightPak system. Additional connectors can be ordered from companies such as Neutrik, Switchcraft, and Stratos.
Field News Acquisition Appliction
In this example two BrightPaks are used for outdoor, field news acquisition. One BrightPak is populated with a BrightEye 90-FA Up/Down/Cross Converter and is processing an HD or SD camera feed. The BrightEye 90-FA upconverts or cross converts the signal as needed to the desired HD format. For example, if the desired output is 720p, any input delivered to the BrightEye 90-FA (SD or HD) would be converted to 720p. Audio levels and video levels can
be adjusted.
The BrightEye 90-FA's outbound fiber feed goes to a second BrightPak in another location. This second BrightPak is populated with a BrightEye 48 Optical to Electrical Converter and BrightEye 24 D to A Converter. The incoming optical feed comes into the BrightEye 48 and is converted to electrical (HD or SD on standard coax) for signal monitoring and distribution. This electrical signal feeds the BrightEye 24, where the signal is demuxed into SDI, composite and analog audio for monitoring purposes.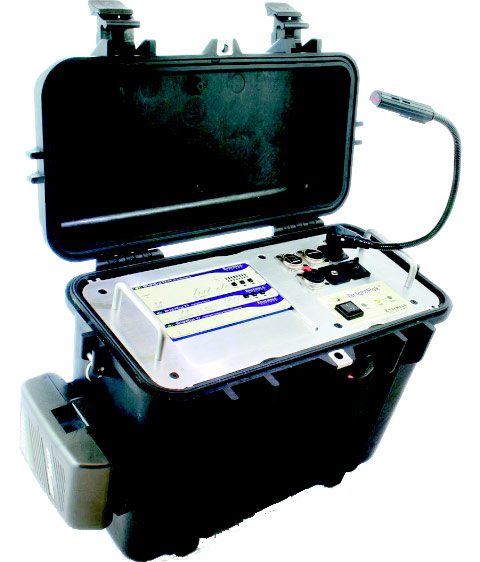 BrightPak Field Kit
More…