Sooners Serious About Signal Conversion
NORMAN

,

OKLA

.

by Chris Turner
Film, Video and Broadcast
Production Services
University of Oklahoma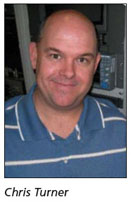 Our recent move from a very small facility into a brand new 10,000- square-foot operation has provided us with the capacity to handle more live shows and to do more productions in high definition.
A great deal of this programming involves interaction with some of the bigger networks. Our university president, Dave Borne, regularly does talk-backs with MSNBC from our facility. We frequently do NFL interviews as well. On any given day you might find us doing three different live Q&As with three networks simultaneously, along with several hours of taped production as well.
A lot of our broadcast activities are done remotely from the Barry Switzer Center— location of our football locker room and the place where our football coaches can often be found. Fiber is used for video feeds to and from Switzer Center, located about four blocks from our studio and control room operations.
AVENUE
STANDS
OUT
Quality video signals are key to providing feeds for the networks and other users. I specify all gear for the TV facility here, and after quality, the next two really important selection factors are flexibility and price. In evaluating a lot of equipment for our new television facility, I found Ensemble Designs' Avenue line of cards especially well suited to our needs.
We've got some HD sources and an SD server and Avenue ties those signals together. The 5330 A to D cards take our video feeds, along with associated audio, and convert them to SD SDI. The Ensemble frame sync card is very useful in helping us with white balance and chroma correction. Avenue PC software provides an easy way to adjust levels and timing. For D to A conversion we use the 5230 cards. Their audio output function is convenient for monitoring.
We've never had an Avenue card go bad on us, and we run everything 24 hours a day. In one situation, we were in the middle of a live show on a hot summer day when the air-conditioning quit. The Avenue equipment was in the cabinet with everything else and even though some other gear got fried, the Avenue cards just kept on running.
If I were to build another production facility or another truck, I'd buy Avenue HD conversion cards, as it saves you lots of money in the long haul, and this gear won't let you down.
HANDLES
THEM
ALL
Our customers range from video producers with training video projects, to network and government customers. We see all sorts of formats and media—Beta SP to full HD— and have to be able to accommodate them all. The Avenue lineup of conversion and other cards make this possible— A to D and D to A, SD or HD. The nice thing is that I can intermix everything in the same card tray. The decision to add Avenue gear to our operation was a sound one and the equipment that we purchased keeps on paying us back in more and more ways.
Chris Turner is the director of operations and broadcast producer for the Film, Video and Broadcast Production Services at the University of Oklahoma. He has 18 years of experience in broadcasting including studio and remote broadcasting. He may be contacted at cturner@ou.edu.