House of Worship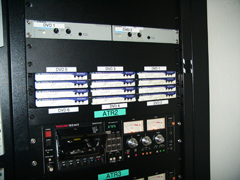 Kenneth Copeland Ministries
Live Skype interviews with your missionaries simplified
From doing a live interview with your missionary on the other side of the world to integrating your church website into the service, Ensemble Designs equipment will simplify your production.
Video Mission
When Kenneth Copeland Ministries was founded over 40 years ago, their mission was simple: to preach faith, love, healing, prosperity, redemption, righteousness, and the principles of Christian living. And after 40 years, that mission hasn't changed. The one thing that has changed is the way their message has traveled across the globe..
These days that message is delivered through webcasts, podcasts, and through KCM's Believer's Voice of Victory television broadcast — aided by Ensemble Designs' BrightEye line of compact converters and Avenue tray-based signal integration system.