New 3G and HD Test Signal Generator for IBC from Ensemble Designs
Grass Valley, CA – 18 August 2008
Ensemble Designs will feature eleven new products at IBC including a test signal generator and sync pulse generator for HD, SD and 3Gb/s for use in broadcast, manufacturing, and post applications.
"As facilities add 3Gb/s to their repertoire, reference, distribution and monitoring solutions are really needed for broadcast and post, said Cindy Zuelsdorf, Marketing Czar at Ensemble Designs. "Broadcasters are looking at handling Level A 1080p signals and post are looking at Level B 4:4:4 on one cable. We want to provide the pieces of equipment needed to easily integrate 3G into those plants."
The new TSG/SPG is part of the BrightEye series and is a mere 143 mm x 40 mm x 140 mm. BrightEye 57 outputs are programmable and offer many signal choices including: Tri-level sync, HD SDI, SD SDI, 3G, composite, AES and LTC. This new TSG/SPG offers a reference solution for broadcast and post facilities working with 3G signals.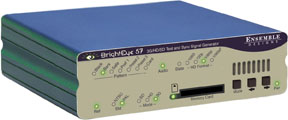 BrightEye 57 3G/HD/SD Test and Sync Generator
Front View
Over 30 selectable test patterns, including bars and pathogenic, are controlled from the front panel or from PC or Mac control software.
The front-accessible secure digital card enables users to load custom test patterns and audio clips into the BrightEye 57. User-created test signals and full colour graphic slates can be customized for every facility and associated with a voice-over audio clip or other related audio.
For facilities using 3G the issue of monitoring the signal becomes a challenge. Ensemble Designs' new BrightEye HD/SD/3G digital to analog video converter with an HDMI confidence monitor out offers a convenient way to monitor any type of digital video signal. A 3G video signal can be easily viewed via the HDMI output of this new unit.


BrightEye 57 3G/HD/SD Test and Sync Generator
Rear View
Other products on display will include new Avenue HD/SD/3G electrical and optical converters and a new HD/SD/3G distribution amplifier.
Based in Grass Valley, California, Ensemble Designs is a leading provider of signal processing and infrastructure products to the professional broadcast industry. Customers include RAI, Olympic Broadcast Organisation, Sky, ESPN and TVNZ.