Multiviewer Magic 2.0 Debuts at NAB
March 6, 2014 Grass Valley, California – Ensemble Designs will debut its Multiviewer Magic 2.0 release at the National Association of Broadcasters Show (NAB) in Las Vegas, 7-10 April, 2014, at booth N2524.
The all new Multiviewer Magic 2.0 delivers an offline mode for creating screen layouts, alarms for ensuring signal integrity, new fast authoring tools with eye dropper and paste functions, closed caption support, and countdown clocks. Also new are independent Edit and Control modes, giving users the precise controls needed for their particular jobs.
"The staff setting up and configuring a Multiviewer have very different needs from the day-to-day operators," said Mondae Hott, Director of Sales for Ensemble Designs. "Engineers and installers are configuring the hardware, setting up alarms and creating screen layouts. Segment producers, floor directors and QC staff need to see a lot of different sources and look at signal quality. We've addressed those two types of workflows in Multiviewer Magic 2.0."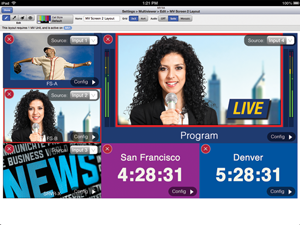 An unlimited number of layouts can be created offline. The layout editing window is so accurate that one can design a layout without looking at the actual Multiviewer video output. Multiple screen layouts can be created, saved, and easily recalled, or applied to other Multiviewer outputs. One Multiviewer screen layout might be for a QC position while others could be created for a control room, remote truck or producer position. New screen layouts can be designed while the Multiviewer hardware is in use.
"Imagine a segment producer of a live show who's got 20 cameras or sources available and one Avenue Multiviewer output has been allocated to her," said David Wood, Chief Design Engineer and President at Ensemble Designs. "She can use the Web Control Panel on her iPad to recall any number of preset Multiviewer layouts, easily looking at all of her sources."
The Avenue Multiviewer's web control panel can be used on a Mac, PC or tablet, which means the Multiviewer can literally be used from any location. The browser-based control panel provides intuitive controls for selecting and monitoring particular video and audio sources.
"The segment producer may want to verify that the microwave feed is good, for example," said Mr. Wood. "With an iPad, she can switch the Multiviewer output to Fullscreen to see that specific source."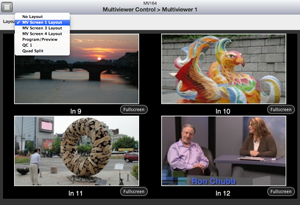 The Avenue MV82 is an eight input/two output Multiviewer. All eight sources can be displayed on one screen, or split into two quad splits. The MV164 is a sixteen input/four output Multiviewer. All sixteen sources can be displayed on one screen, or divided between the outputs. Output configurations are extremely flexible, allowing a variable number of sources on the different outputs. The 9480 Multiviewer option can be added to the Avenue Integrated Routing System, providing incredible flexibility, drawing from the sources to the router, and returning Multiviewer outputs directly to the router matrix without tying up valuable routing inputs. This level of integration is unique to the Ensemble system, delivering routing, production switching and Multiviewing, all in a very small footprint.
Based in Grass Valley, California and formed in 1989, Ensemble Designs is a leading provider of signal processing and infrastructure products. Customers include CBS News, The Daily Show, Fox Sports, Amsterdam University, General Atomics, and NASA.
##
Short demo video here: http://youtu.be/JHUOxTIYL_I