'Deadliest Catch' producer enthralls SMPTE audience
March, 16, 2012, The Union Newspaper, Grass Valley, CA
More than 100 people sat on the edges of their seats as Doug Stanley, Emmy award-winning producer of "Deadliest Catch," revealed his newest technology secrets.
The event occurred during a recent meeting of the Society of Motion Picture and Television Engineers, held at Ensemble Designs in Nevada City.
Stanley, CEO of Ridgeline Entertainment of Auburn, is a specialist in extreme environments and renowned for his skills as a producer of top shows for Discovery Channel, Fox, ABC, Animal Planet and Country Music Television.
"I am essentially a visual storyteller who enjoys seeing the story pass through the lens," Stanley said.
His stories about producing television on the edge of the world kept the audience enthralled all evening. They were followed by a lively discussion of the latest, bleeding edge, multiplatform broadcast techniques, including 3D and interactive broadcasts.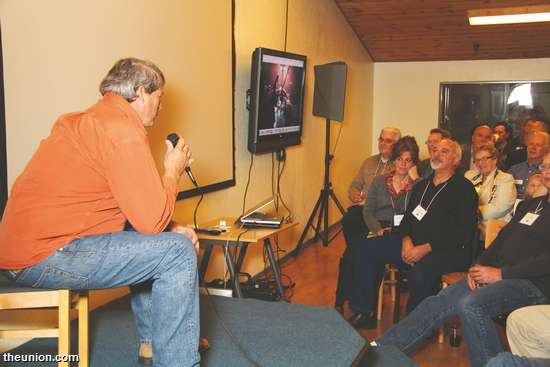 The presentation also featured several short videos including a trailer for a possible new show that's about surfing in dangerous conditions.
"I was amazed by the tremendous challenges (extreme videographers) face, shooting video under incredibly difficult and dangerous conditions," said David Wood, chief design engineer and president of Ensemble Designs. "He made me appreciate how important is the reliability of the equipment, and that even the most mundane decisions we make as designers have major implications to our customers."
Ridgeline Entertainment's business model includes streaming live music concerts on Facebook — from The Parlotones, one of South Africa's most popular bands, to a recent Michael Jackson tribute concert.
Ridgeline is working on a new show about a challenging cross-Pacific swim, the longest swim ever attempted.
Stanley talked about designing the extreme conditions camera packages for "Deadliest Catch," "Ice Road Truckers," "Black Gold," and "Lobsterwars," which was of great interest to the many engineers in the room. He described life aboard a fishing vessel and the challenges of climbing over frozen fish in inclement weather in order to get the best camera shot.
The audience was mainly comprised of society members, the majority of whom work at local high-tech companies including Telestream, Sierra Video, AJA Video, Ewing-Foley, Miranda, Grass Valley, Renegade Labs and Ensemble Designs. Staff from nearby television stations KVIE in Sacramento and KNPB in Reno also attended.
Gennum Corp., a semiconductor designer and manufacturer that provides parts for high-tech manufacturers, cosponsored the event along with Ensemble Designs.
"The good folks at Ensemble Designs did an amazing job once again this year," said Mona Smothers, SMPTE chair and account manager at Ewing-Foley, Inc.
"The food was authentic and delicious. We at SMPTE are so fortunate to have such a generous sponsor with incredible culinary talents as we have with the Ensemble family."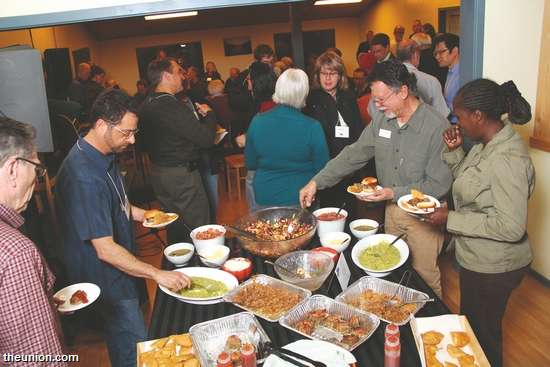 Staff at Ensemble Designs prepared and served appetizers and small plates based on recipes from "Cafe Ensemble Cookbook."
The cookbook, made up of original recipes from Ensemble staff, is available at local retailers Maiden Lane, SPD Markets and Tess' Kitchen Store.
Visit www.Ridgeline Ent.com and www.Ensemble Designs.com to learn more.