Colorful splash: Nevada City designer helps company stand out in Vegas convention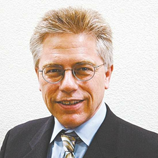 Clark Staves
April 29th, The Union Newspaper, Nevada City, CA
As the guy helping Nevada City video manufacturer Ensemble Designs make a splash at a big Las Vegas convention, Clark Staves had a problem.
"They were smack dab in the middle of the hall, with these great big booths around them, and they needed to be seen to draw people in," said Staves, who runs his graphic design business out of Miners Foundry Cultural Center in downtown Nevada City.
At the National Association of Broadcasters convention earlier this month, Ensemble Designs had a 40-foot-wide space between two companies with 100-foot-wide booths. How to make his client stand out?
Know the competition.
From his experience at trade shows, Staves knew most other companies in the industry were using white panels. They make sense for a big booth, because graphics are less costly.
So Staves designed Ensemble's booth using vivid hues of blue, green, yellow, orange and red.
And he made the booth seem bigger by going up, erecting 8-foot graphic images of Ensemble's new products at the top of booth panels and "floating" a colorful drum above.
The graphics — created by Donald and Pam Marshall of Amazing Digital Magic in Chicago Park — turned the products, some as small as a cell phone, into eye-grabbers.
"When you have a small product to show, and need to make a big splash, there's nothing like making a big deal out of a small message," Staves said.
Brochures and technical literature followed the same designs.
Creating such a brand identity "is the result of a constant dialogue between the customer and the company" that started during product development, Staves said.
Staves works with other technology companies in western Nevada County, including pioneering video manufacturer Grass Valley (known locally as Grass Valley Group).
He started out in the 1970s creating technical illustrations for the aerospace industry in Los Angeles, he said. He was among the first to start using Macintosh computers for technical work, he added.
"I was doing digital artwork for this company called Grass Valley Group, and the art director kept trying to seduce me into coming up there," Staves said.
At 3 a.m. one morning, he was driving home and saw the morning commute traffic backed up on an L.A. freeway, and decided it was time to check out the northern foothills.
"The only thing I came back for was to pack," he said, laughing.
Staves moved his family to western Nevada County, working several years for The Group. He also formed the Ad Infinitum advertising agency, and with his wife ran Jack's Internet Cafe in downtown Grass Valley before returning to The Group.
He has run his own graphic design firm for five years, and he moved into the Miners Foundry in July 2010, Staves said.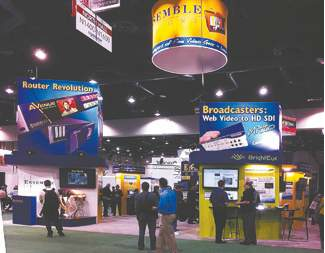 Nevada City graphic designer Clark Staves used bold colors and big graphics to draw crowds to the booth of Nevada City video manufacturer Ensemble Designs at this year's National Association of Broadcasters convention, held earlier this month in Las Vegas.
Based in Grass Valley, California, and founded in 1989, Ensemble Designs is a leading provider of signal processing and infrastructure products to the professional broadcast industry, and other government and commercial applications. Customers include RAI, CBS News, NASA, Major League Baseball, Olympic Broadcast Organisation, Sky, ESPN, The Moving Picture Company and TVNZ.
Ensemble Designs PO Box 993, Grass Valley CA 95945 USA
http://www.ensembledesigns.com
Tel: +1 530.478.1830
Press Contact: Cindy Zuelsdorf
cindy@ensembledesigns.com
Tel: +1 530.478.8328