New BrightPak Used For White House News Acquisition
Grass Valley, California – 14 April 2008
Ensemble Designs today announced the introduction of its BrightPak Field Kit use in broadcast, sports and mobile applications. BrightPak is is a tool for field acquiring and offers rugged housing for BrightEye video converters, sync pulse generators and fiber transmitters. The new units will be unveiled at booth SU2326 at the National Association of Broadcasters convention held April 14-17, 2008 in Las Vegas.
"BrightPak was first used for news acquisition at the White House," said Cindy Zuelsdorf, Marketing Czar at Ensemble Designs. "It's great for mobile applications where HD upconversion, fiber transmission and other terminal gear are needed in a solid, portable case."
BrightPak can be outfitted with a variety of video converters, audio embedders and test pattern generators, depending on the application. An Anton/Bauer Gold Mount Battery connector
plate is installed on side of case and wired into power system. The user can select between AC power or battery. A USB hub is built into the case for controlling all of the terminal gear in the unit. Software is included with each converter for control of video levels, timing and other parameters.
When BrightPaks are used for field news acquisition they can process an HD or SD camera feed. A BrightEye 90-FA would upconvert or cross converts the signal as needed to the desired HD format. All types of 1080 and 720 are supported. The BrightEye 90-FA's outbound fiber feed would goes to a second BrightPak in another location. This second BrightPak could be populated with a BrightEye 47 Optical to Electrical Converter and BrightEye 24 D to A Converter. The incoming optical feed to the BrightEye 47 would be converted to electrical for signal monitoring and distribution and then demultiplexed by the BrightEye 24 into analog video and audio for further confidence monitoring.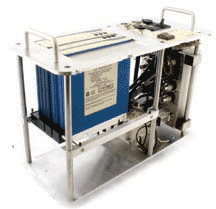 BrightPak
Based in Grass Valley, California, Ensemble Designs is a leading provider of signal processing and infrastructure products to the professional broadcast industry.
###
Ensemble Designs
PO Box 993
Grass Valley CA 95945 USA
www.ensembledesigns.com
Tel: +1 530.478.1830
Fax: +1 530.478.1832
NAB SU2326
More Information