WSU Uses BrightEye 90 For Fiber Optic Delivery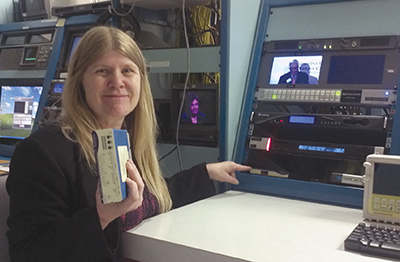 Dee Ana Bell, Production Engineer and Chief Operator – Washington State University
Named for its most famous alumnus, the Edward R. Murrow College of Communication at Washington State University is one of the most highly regarded broadcast colleges in the United States. The College houses three nationally acclaimed media outlets including Northwest Public Radio, Northwest Public Television and the Murrow News Service. It also airs a daily student-run television newscast called Murrow News 8.
The existing fiber delivery system at the college was designed specifically for analog audio feeds and composite video inputs. Over time the campus infrastructure had evolved into a mixture of legacy and new fiber installations including single and multi mode fiber equipment. With productions coming from all across the campus, using both new and legacy equipment, signal flow became complicated. They frequently required external signal conversion equipment.
Dee Ana Bell, Production Engineer and Chief Operator of the 18 radio stations and two PBS television member stations of the group, selected the Ensemble Designs BrightEye 90-FA up/down/cross converter and aspect ratio converter for use with analog and digital video signals and optical output. Optical connectivity allows for long cable runs between buildings or in mobile applications, and the up/down/cross conversion eliminated the need for external signal converters. In addition to video, they can input audio in either analog or embedded formats and send it via fiber to the main facility without worrying about hooking up external conversion gear at the receiving end. One of the immediate benefits of the BrightEye gear was its ability to handle both multi and single mode fiber eliminating the need to keep spare fiber drivers for the two types of fiber optic connections. They are also using a BrightEye 48 optical receiver with built-in distribution amplifier at their satellite uplink facility. It makes monitoring and signal distribution a cinch eliminating the need for outboard DA cards.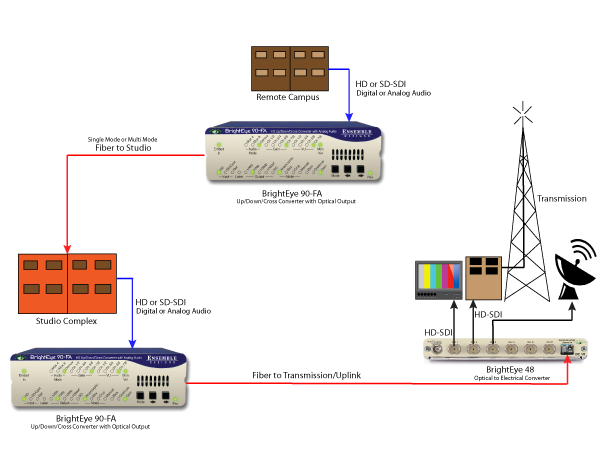 Since switching to the BrightEye fiber system they also noticed another improvement. They had recurring audio automatic gain control issues with the old fiber drivers. This caused the noise floor to become elevated during quiet passages and required constant monitoring and manual intervention.
"Our BrightEye fiber equipment has really made a difference in this area, allowing our operators to handle other duties without having to constantly worry about audio" said Dee Ana. "Now for the first time we're satisfied with the way the fiber-delivered audio sounds.