Why KTAS's Roy Keefer Swears by Ensemble Designs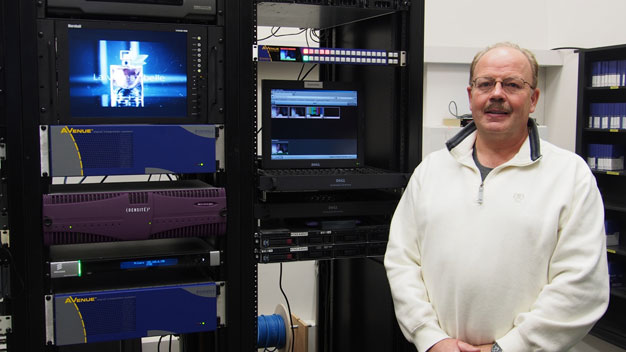 Avenue 9430 Router a Key Ingredient in
KTAS

Cost-Effective Conversion to HD

KTAS is an independently-owned Telemundo affiliate in Santa Maria, California, a city of 100,000 residents which is located approximately 150 miles northwest of Los Angeles. The station serves DMA 122, which comprises the coastal communities of Santa Maria, Santa Barbara, and San Luis Obispo.

KTAS began operation in 1997 on channel 33 as a full power analog station. In 2002, in order to comply with the FCC-mandated transition to digital broadcasting, the station began digital transmissions on channel 34. From 2002-2009, the station simulcast its programming on both of its channels. In 2009, along with many other stations across the country, KTAS turned off its analog transmitter.

The DTV conversion has been costly for all U.S. television stations, but it has been especially burdensome for small market stations like KTAS. The cost of acquiring a digital transmitter and operating two channels in parallel for several years has made it necessary for small market stations to find new and innovative ways to fund the acquisition of equipment necessary to take full advantage of the unique capabilities of DTV.

Faced with the need to begin telecasting in HD and the need to do so on a limited budget, KTAS Chief Engineer Roy Keefer turned to Ensemble Designs to help him achieve his objectives.
KTAS

On-Air Operation

The bulk of the KTAS program schedule is comprised of network programming produced by Telemundo. The station produces its own half hour local newscasts that air at 6 and 11pm daily. Occasionally, long-form programs from a variety of sources are pre-recorded for playback at a later time. The station throughout the day inserts station breaks and local commercials.

Prior to the commencement of HD telecasts at KTAS, the station's analog router, using a single bus operating under automation control, handled on-air switching. This arrangement worked very well, because all of the on-air sources were available on the house router.
Transitioning to HD – A Phased Approach
In order to spread the capital equipment cost over an extended period of time, KTAS has chosen to implement the transition to HD in several distinct phases:
Phase 1: Broadcast all network programming in native HD, and air all locally produced SD programming, commercials, and interstitials as upconverted HD.
Phase 2: Replace existing SD servers with HD servers to enable pre-recorded HD content to be played out in native HD.
Phase 3: Replace existing SD studio production equipment with HD equipment to enable newscasts and other locally produced content to be produced in native HD.
Two key elements were required for Phase 1, which was implemented in January 2013: HD upconversion and HD switching.
KTAS Chief Engineer Roy Keefer has been using Ensemble Designs Avenue products for several years. It was natural for him to look carefully at the Avenue 7910 HD Upconverter. The Avenue 7910 combines upconversion, adaptive noise reduction, aspect ratio conversion, and proc amp functions on a single Avenue module. With space available in his existing Avenue frames, the 7910 provided an extremely cost-effective way to address the station's need for high quality upconversion.
Keefer was considering HD routing switchers from a number of manufacturers when he learned about Ensemble Designs newly introduced Avenue 9430 Flexible 3G/HD/SD router. The Avenue 9430 is an 8×2 router on a single module. Flexible input and/or output router expansion is possible by adding modules, and a clean switch option is also available. The more Keefer looked at the Avenue 9430, the more he became convinced that it was the ideal router for his application.
On-Air Switching with the Avenue 9430
A significant benefit of the 9430 is the fact that it could be plugged into one of KTAS existing Avenue frames. This eliminates the need for additional rack space. In addition, the router fully integrates with the Avenue configuration, monitoring and control software.
Another important benefit of the Avenue 9430 is the Avenue 9435 clean switch option. It provides clean and quiet switching on two independent, user selectable, router inputs or outputs. Clean and quiet switching is a necessity in an on-air switcher in order to ensure glitch-free transitions when switching between programs and commercials.
Most routers with clean and quiet switching utilize line delays to align source timing. This makes it necessary to use sources that are synchronized to the house reference and timed to within a few lines of zero time. The Avenue 9435 clean switch option uses frame synchronizers to align source timing, so clean and quiet switching is ensured regardless of source timing or whether or not the sources are even locked to the house reference. In addition, the Avenue 9435's frame synchronizers output black if the input signal goes away. This ensures continuity of the router's video output signal, a significant benefit in the KTAS application, because the router is feeding an MPEG encoder.
Despite this unique capability, it is useful to know whether the router sources are plant synchronous and their individual timing relationships. The Avenue 5830 1RU router control panel has a color LCD display that reports timing and other signal parameters (such as embedded audio presence) for all router sources. In addition, the display can be used to show live video thumbnails of the sources themselves. The same display is available if the router is controlled with a computer or iPad.
Since the on-air switching function at KTAS is automated, Keefer needed a router that could be serially controlled. He was pleased to discover that the Avenue 9430 has a serial control port that supports the protocol used by his automation system. He was also pleased to learn that the Avenue 9430 is capable of having multiple points of control. In the KTAS installation, automation, a 1RU hardware panel, and a browser-based "soft panel" are set up to control the router.
For phase 1 of the station's conversion to HD, only 2 inputs are used on the 9430. One is for the native HD network feed, and the other is for upconverted SD local sources. Local sources are preselected on the station's analog router and fed to the Avenue 7910 upconverter, the output of which feeds the Avenue 9430 HD router.
A Clear Path to Support Future Routing Requirements
As KTAS progresses to phase 2, and then phase 3 of their conversion to HD, more and more of the station's analog equipment will be replaced by HD equipment. As that process unfolds, the need for analog routing will shrink, and the HD routing requirements will grow. The unique architecture of the Avenue 9430 will enable them to flexibly expand and even reconfigure their router as needed.
The basic Avenue 9430 module has 8 inputs and 2 outputs. Adding one or two Avenue 9440 ten-port expansion modules can expand the number of inputs and/or outputs. Each of the ports on the Avenue 9440 can be configured as either and input port or an output port. So, an Avenue 9430 plus one Avenue 9440 supports a total of 11 different configurations ranging in size from 18×2 to 8×12. An Avenue 9430 plus two Avenue 9440s supports a total of 21 different configurations from 28×2 to 18×22. On-board test pattern generators produce bars and black, eliminating the need to dedicate two inputs for those signals.
A second Avenue 9435 clean switch option can be added to expanded routers, providing up to four independent clean and quiet inputs or outputs.
Customer Service
KTAS has been using Ensemble products since 2009. In all of his dealings with Ensemble, Chief Engineer Roy Keefer has been extremely pleased with the quality of the company's customer service. Routine customer service issues have been handled promptly and courteously, and Keefer has found everyone at the company with whom he has had contact to be exceptionally helpful, up to and including company founder David Wood.
This level of customer service has proved to be vital, because KTAS was one of the first customers to take delivery of the Avenue 9430 router. When issues arose with the integration of the serial interface to the station's automation system, Keefer notified the company. The issues were resolved by an on-site visit from Ensemble Designs customer support personnel.
Summary
Ensemble Designs Avenue modules have played an important role in migrating KTAS from analog SD to digital HD. An Avenue 7910 HD Upconverter/Cross converter module and an Avenue 9430 Flexible Router inserted into an existing Avenue frame have provided a seamless and cost effective pathway to digital HD, while maximizing the use of existing infrastructure. In addition, KTAS is well positioned for the future installation of HD equipment as phase 2 and phase 3 of their transition plans are implemented.